2021 Pick-ups: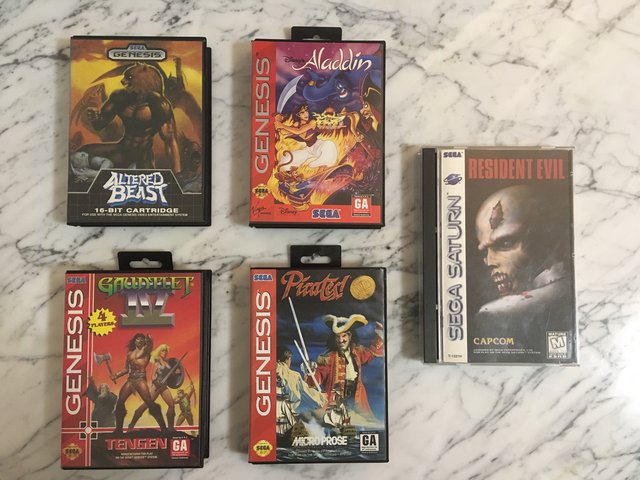 39. Altered Beast (GEN)
40. Aladdin (GEN)
41. Gauntlet IV (GEN)
42. Pirates! Gold (GEN)
43. Resident Evil (SAT)
Here are my pick-ups from August! I'm not sure how I didn't have a copy of Altered Beast as a Genesis fan, but usually when I'd run into a copy something would be missing or destroyed. But this was one of the first games I played on the Genesis, at my cousin's house. Always enjoyed the dark and creepy vibe of the game. Rise from your grave! Lol. Aladdin was also a game I put off for a long time, but after enjoying some of the other Disney platformers on the Gen, I was interested in picking it up. I was hoping to find both games for July's "Alms for the Poor" TR theme, but just missed out on getting them in time.
I have to thank Ziggy for getting this Gauntlet IV cartridge to work. I bought it from a seller online who claimed it was tested, but the cart ended up having a dead PCB, thanks to the cheaper parts Tengen used for their carts. I heard of this situation, but figured it wouldn't be the case here, since the seller claimed it was tested. Well, Ziggy to the rescue! He was able to solder the original game ROM onto a new PCB. Love the arcade action and soundtrack for this game. Can't wait to play it co-op with my friend. I might also consider getting a multi-tap for this one. Many thanks to Ziggy for his work on this.
Pirates! Gold is a game that I wasn't aware of until a few years ago, I had never played a pirate sim type of game, and was interested that something like this would be on the Genesis. I fired up the ROM on an emulator one night and got sucked in and was playing for a few hours. After that initial experience, I wanted to pick it up if I came across a good CIB copy. I finally came across one, and it even had the map, which is a nice bonus.
As I've mentioned a few times, Resident Evil was a huge game for me growing up -- I initially experienced it on the PS1. Over the past few years I've grown curious about the Saturn and Dreamcast releases in the RE series. I passed up a good condition copy of the RE for the Saturn at a local game store a few years ago and since then had kinda regretted it, so when the opportunity came up again, I snagged it. Looking forward to experiencing this classic again on a different console.