Thanks for that link and especially this Thread to see other points of view. Nice to read all the CRT TV owners. However, the OP at NeoGaf did not seem to like HD CRTs, obvious not knowing the full potential.
SpaceBooger wrote:I still have three of them. I have a 28inch Magnavox flat tube in my bedroom, my main Sony WEGA Trinitron for my oXBOX (component), PS2/1 (component), Wii/Gamecube (component), Sega Genesis/CD (s-vid modded), Saturn, SNES, NES, N64 and Dreamcast (all these are composite). The other is some off-brand curved tube TVs I use for lightgun games since my others won't play them.

I only have one HDTV a 50 inch 720 plasma. I love my CRTs.
Well, your Sony Tube TV is an HD TV! I also own that same series WEGA with the memory slot. Might have already asked you in another Thread, what is the model number? The HD WEGA supports resolutions up to 720p and 1080i which is everything HD except for 1080p. All of the inputs including multiple RF, Composite, SVideo, Component and DVI/HDMI.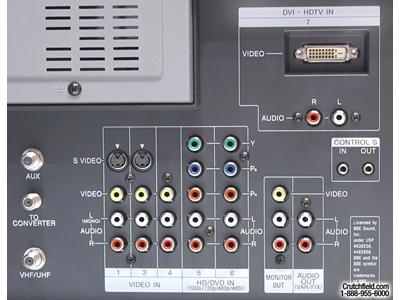 Of note, many of the Sony HD Tubes have a DVI input instead of HDMI. An easy fix with an inexpensive HDMI to DVI adapter plug or cable. Works just fine with HDMI Switch Boxes, but you will need separate audio leads since the WEGA DVI input does not support audio. Give it a shot, to utilize that seldom used input.
bryan_65 wrote:When shopping for DVDs I still seek out Full Screen versions.

I rather get the widescreen anamorphic version, even though my preference WEGAs are 4:3. I then set the DVD player to FULL, prefer skinny actors over black bars. I noticed that BluRay movies display many older 4:3 films with black bars on the left and right even on my 4:3 HD CRT; the Bluray discs are coded for widescreen TVs. This is where the DVD version has an advantage.
JoeAwesome wrote:Count me in for the Trinitron group. HD CRT 27" (with cracked bezel from the buy) with HDMI input. That thing is sweet for tate shmups from my laptop's HDMI (yes, I tate a ~180 lbs. CRT), but now it's getting good use with my Neo Geo.

Have extreme care in this. That heavy CRT does not have the proper supports inside to be sitting sideways; the main cradles are ONLY on the bottom! On top of that, your Bezel is already cracked, the high voltage inside is dangerous should that tube drop inside.
nightrnr wrote:Even my PC monitor is a CRT atm.
Dreamcast + House Of The Dead + LightGun + VGA CRT = 640x480 resolution and the lightgun works!