I finished reading
Batman: Year One
and it was absolutely fantastic! I really enjoyed it. The story, the dialog and the artwork were all great. For an art style that sort of sketchy and not overflowing with detail, there's actually a lot of detail in there. Some frames were really fun to look at and find items, like a Vogue magazine on the floor in Selina's apartment or a pack of cigarettes on someone's desk. Or the Peanuts lamp on the commissioner's desk, and IIRC it was later revealed that he's a pop culture memorabilia collector.
One thing though, it could often feel rushed. Not in a bad way, if anything it makes it more of a page turner. I haven't read many comics yet, so I'm wondering if this is just how a lot of comics tend to be. I mean, it's not a novel, and I wouldn't even want them to be too wordy. This is not even a complaint, more just an observation. I guess I'm still learning about comics.
This is the first anything I've read by Frank Miller. That's one name that is well known, even by people that have never touched a comic book. Now I think I know why. Are all of his writings this good? If so, I think I'll have to search out other things by him.
Year One
was popular enough that there's been a few more runs that are more or less sequels to it. So right now I'm in the middle of reading
The Man Who Laughs,
which takes place after the events of
Year One
. I just really wanted to read this one since it was on my list anyway, and Joker is teased at the end of
Year One
. But chronologically, there are two runs that take place in between
Year One
and
The Man Who Laughs
. And then there's
Year Two
and
Year Three
. I might stay on this Batman continuity instead of hoping around. It seems like it would get way too confusing to read many different Batman runs from different timelines.
I still haven't finished The Thrawn Trilogy, but that's mostly just because Year One really sucked me in. I don't mind taking breaks and hoping around between issues. After all, that's what you would do if you were reading issues as they were released. Sort of like binge watching a series on a streaming service coming to watching one episode per week. I love binging things, but I find that the breaks in between episodes or issues or whatever lets you digest them better. It tends to all blur together and be more forgettable when you binge.
I found a lot of Creepshow comics on eBay for a decent price...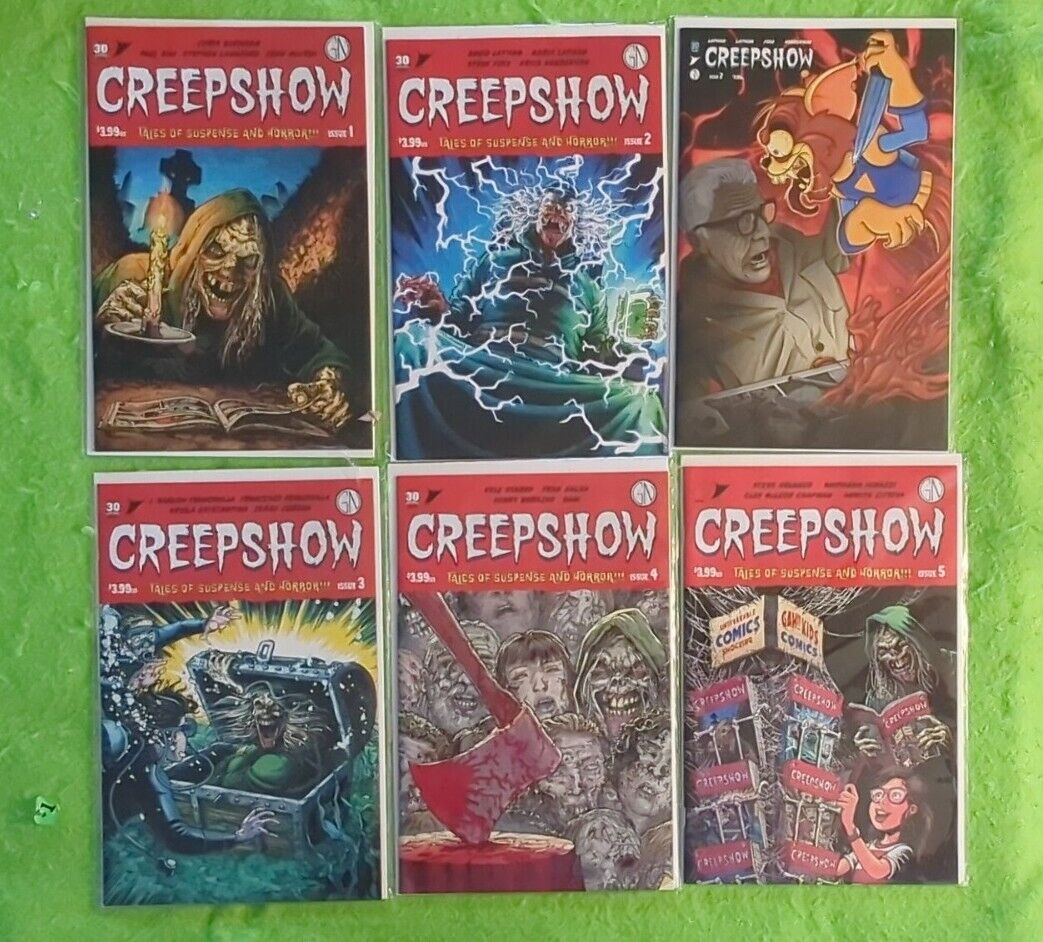 Even with the duplicate (variant), it was still a very good price per issue. I think after shipping they were something like $6.30 per issue. I love horror anthologies, and I've always loved the Creepshow movies (at least the first two). I didn't read a whole lot of reviews for these, I kind of just want to dive into them. That's what I would have done if I read comics as a kid and saw these in a shop.
marurun wrote:I would seriously recommend any comics/graphic novels written by Greg Rucka. His opening run on Batwoman is fantastic. For something more real-world, Queen and Country by Oni Press is great. Rucka's Wonder Woman is fantastic. Rucka's own Lazarus comic on Image is very good as well. Get yourself some Greg Rucka.
Thanks! I'll look into him.