Cleared the first loop in SW3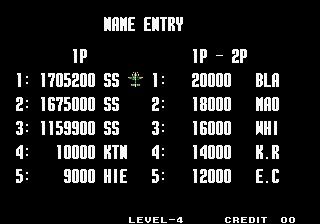 SONIC WINGS 3
1,705,200 - DocHauser - 2-4 - Kowful & River - MAME
I beat the normal end boss on Mars, and ended up dying on the 2-1 boss. Then I thought I wanted a screenshot of the end sequence, so I had another go...and cleared it again!
I got the comedy final-boss the 2nd time - seemed pretty easy, I wonder if it's worth as many points as the normal boss? I finished the loop with a bit less, at any rate. The 2-1 boss has a slighty unexpected difference... 2-2 boss is the same. The bonus stage scrolls backwards quickly and the tanks are more spread out, so it's not as easy to rack up points in it. Died on 2-4, only just beating the score for the 2-1 run.
Oh yeah, first death was on 1-8. I beat the 1-7 giant squid boss with no deaths and no bombs!