Time to take the topic down another spiral.
Many many years ago, I was at a scout camp and one of the older kids had a board game that many of us wanted to play. This was not common, anything past a deck of cards was usually "contraband" (this was the late 80s, so way before Magic). He was an older kid from another state but there were always a couple guys leaning over this small board nodding and chatting like they were planning DDay. By the end of the week I finally got a chance to play this game and I lost in like five turns. But the memory of that game stayed with me. This game was none other than Microgame #1 Ogre: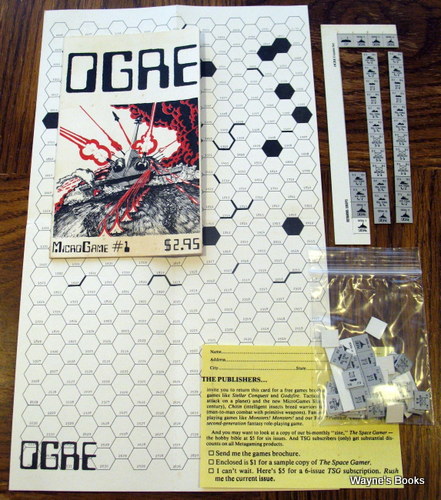 I have commented on this several time in the past so forgive me if you have heard this already. Ogre is a small wargame that is the essence of other wargames without the fluff and record keeping, making it a fast playing tactical experience for two players. One player is the Ogre, a large robotic tank with a variety of cannons, anti personnel guns, and missiles.
The other player is combined forces trying to stop the Ogre:
Those images are from the minis version that came out in the 90s.
There are various versions of the Ogre - from Mk1 to Mk7 aswell as variants, including Cthulhu, and many different types of combined arms. The basic game is an Ogre Mk3, 20 points of infantry, and 12 points of armor (howitzers cost 2). The goal of the defender is to stop the Ogre. At its heart, it is a game of redrover. The ogre is pushing through a web of defenders, or driving over them, to get at the Control Point on the other side. Once the initial game is over, gametime goes down significantly. Last night I taught my wife how to play it, even though I had forgotten many elements, and we still finished a Mk3 game in under 30 minutes.
Ogre was so well received that it has had many reprints and expansions. The Ground Effect Vehicles (hovercraft that act like helicopters) were so popular that they were the namesake for a sequel - GEV. GEV takes the redrover style gameplay and makes it into scenarios and campaigns featuring battles between the PanEuropean Alliance and Combine (aka Americas). Gone is the crater map and we were presented with grasslands, forest, and rivers. Ogre is a fantastic game, but it is the training tool to get you ready for GEV. GEV was expanded a couple times, adding maps, other units, and other Ogres, making it infinitely replayable. But then, out of no where, the property stagnated. For most of the 2000s, Ogre was dead as SJG focused on Munchkin and Gurps.
In 2012 Steve Jackson did something no one expected and started a kickstarter for Ogre Designers Edition. THE definitive version of the Ogre verse, and the largest production boardgame of all time. How big you ask? Big enough to fill a conference table:
Big enough that all of Munchkin at the time fit inside the box:
And big enough that I can sit in the box cross legged.
But that version is expensive, $200ish, and bulky. So most people will opt for the Pocket Edition or the new Ogre 6th edition that is coming out this year. While they do not have the extras from GEV and the other expansions, you will still get a good bit of fun out of the box.
Now I am a longtime wargamer. I grew up playing Panzer Leader and ASL aswell as minis games like Warhammer and Little Wars. But if anyone ever ask me for a suggestion for a wargame, Ogre is my first choice. It is an elegant game that plays well, scales well to a large size, and can be played until the end of time. I highly recommend anyone who likes strategy to give Ogre a go.