Tandy Color Guide – An Introduction
Sometime in 2010 I decided to start collecting retro consoles and games. I only had a vague idea about what I was getting into. I knew that there was some Atari system I missed out on because I was born in '83. I vaguely remembered a tiny little box called the TurboGrafx and a big black beast called the Neo Geo that cost an arm and a leg. I made it a goal to acquire all the great games I couldn't afford as a kid. But once I delved deeply into collecting I discovered some fascinating machines that I had absolutely no prior knowledge of: retro computers, or as I like to call them – computer-consoles.
For the uninitiated, allow me to explain. Running PC games (or PC software) in the modern world doesn't require a specialized
brand
of computer. As long as you meet the minimum hardware requirements and have the appropriate operating system you're good to go. Things were different 30 years ago. Computers ran proprietary software and games: if you wanted to play Apple II games you needed an Apple II computer, if you wanted to play ZX Spectrum games you needed a ZX Spectrum, and so on. Computers back then looked different too – they resembled a bloated keyboard with a horizontal motherboard and various input/output ports located on the back and sides. They were designed to display on a standard television as well as a monitor. Most accepted cartridges as a media format and were compatible with joystick controls. In addition to the aforementioned ZX Spectrum and Apple II examples include the MSX, Atari 400/800, Amstrad CPC, Texas Instruments 99/4A, the Commodore line of computers (VIC-20, C64, C16, and Amiga), and the subject of this very guide – the Tandy Color.
I first became acquainted with the Tandy Color (officially named the TRS-80 Color Computer and nicknamed the CoCo) in the fall of 2012. It became immediately apparent to me that very little information about the CoCo exists on the internet. The computer simply doesn't have a cult following like similar systems from the era – there is no "Lemon CoCo" website! Case in point: I searched the web for about an hour before I was able to figure out how to load a floppy disk game. I finally found my answer in a message board post – a 13 year old message board post!
Which bring me to the purpose of this guide – to consolidate information into one place and teach people about this fascinating and oft-neglected computer system. One caveat before I begin. The Tandy Color is, first and foremost, a computer – you can do typical computer stuff with it like programming, word processing, etc. This guide is written solely to cover
gaming
on the system – if you're interested in learning about the other aspects of the CoCo, check out some of the links I provide at the tail end of this guide.
What is a Tandy Color Computer?
The 8-bit Tandy Color Computer line was created as a joint venture between the Tandy Corporation and Motorola Semiconductor. The system was sold at Radio Shack stores. It wasn't
the
first computer to feature a color display (the Apple II was released years earlier), but was one of the first. The CoCo was preceded by the first Tandy model – the TRS-80 – and followed by DOS-compatible Tandy systems. Tandy Color Computers were available in three successive models, simply named the Model 1, Model 2, and Model 3 (take that, Amiga!). I'll discuss the three models of CoCo below, but I'll also (briefly) mention some non-CoCo computers for historical context and to avoid any (potential) confusion. In other words, in addition to describing what a Color Computer is I'll also describe what it
isn't
.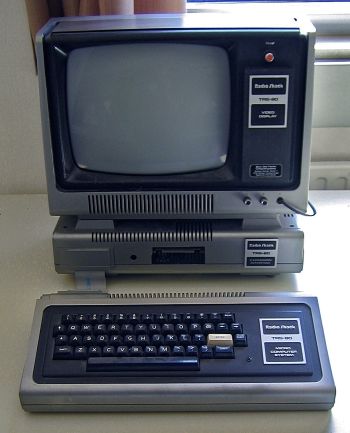 The Predecessor: TRS-80
The original Radio Shack computer, the TRS-80, was released in 1977. Several variations followed throughout the next few years. Cassette tapes were the primary method of data storage, however later models were compatible with 8 inch(!) floppy disks. Though mostly known as a system for computer hobbyists and businessmen, the TRS-80 boasted a small but solid (monochrome) game library – which included the seminal
Dunjonquest
RPG series.
Tandy Color Computer 1
Released in 1980, the original Tandy Color sported a gray and silver color scheme, similar to that of the TRS-80 models. The computer featured an advanced (for the time) Motorola 6809 microprocessor and 4K of RAM. Later variations featured 16K, 32K, and eventually 64K of RAM. The computer shipped with the standard Microsoft Color Basic and could be upgraded to Extended Color Basic. The computer casing was eventually redesigned: the ugly gray was dropped in favor of a sleek white – making the computer appear quite similar to the Model 2.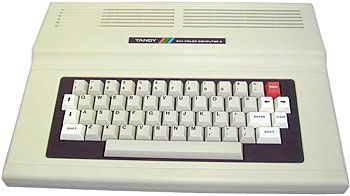 Tandy Color Computer 2
Radio Shack began selling the Model 2 CoCo in 1983. The computer features a standard white case and improved keyboard. This CoCo was released with several different RAM variations: 16K, 32K, and 64K. It is compatible with all Model 1 software.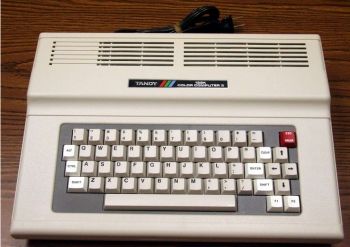 Tandy Color Computer 3
The CoCo 3, unveiled in 1986, would be the final model of Tandy Color. The system shipped with a whopping 128K RAM (upgradeable to 512K), an expanded keyboard with additional keys, enhanced graphical capabilities, output to a composite video monitor or analog RGB monitor, and an updated version of BASIC.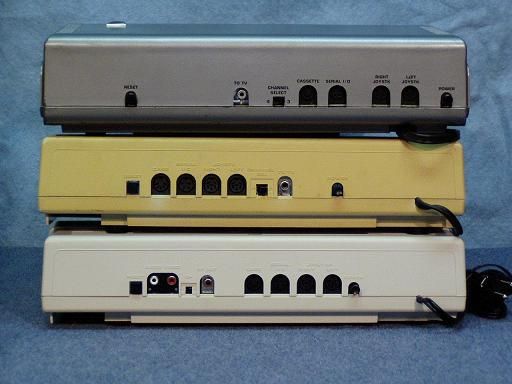 The ports of Tandy Color Computers – from top to bottom: Model 1, 2, 3. Note that all three models share identical ports, though the Model 3 has added enhanced video capabilities.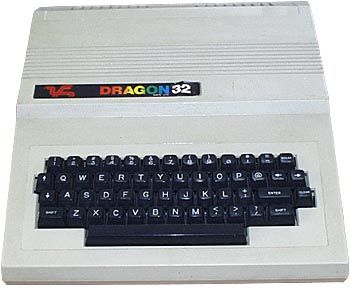 Clone: Dragon 32/64
There were several clones of the Color Computer, but the Welsh Dragon is the best known. Released in two variations (32K and 64K), the system was stated to be about 98% compatible with Tandy Color software.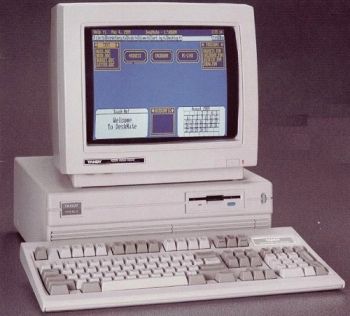 Post-CoCo systems: PC-compatible Tandy computers
Beginning in 1983 Tandy began to release another series of computers, beginning with the Tandy 2000 and later, the Tandy 1000. Rather than running proprietary software, the 2000/1000 models were more-or-less IMB PC compatibles. You may have noticed that many classic DOS PC games have a sticker on the box (usually in the lower left-hand corner) that states "IBM Tandy and MS-DOS compatibles" – those games are able to run on these 2000/1000 systems,
not
the Tandy Color.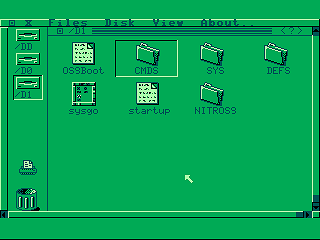 Operating system: OS-9
Tandy Color Computers have the capability to run Microware's OS-9 Operating System, which is required for certain games and software released late in the CoCo lifespan. OS-9 is no longer commercially available, and has essentially been replaced with NitOS-9. NitOS-9 can be downloaded and
physical copies
continue to be produced.
Joysticks
Nearly every Tandy Color game utilizes joystick and/or keyboard controls. Two notable exceptions are Iron Forest and Medieval Madness, which both require the Sega Master System Light Phaser (hooked to an adapter)! There are several varieties of CoCo mice and touchpads, but none are required for gaming. The Tandy Color Computer uses a proprietary port for joysticks (not a 9-pin), so Atari 2600 joysticks and Genesis controllers are not an option. There were two main styles of stick produced during the CoCo lifespan – the 1 and 2 button varieties.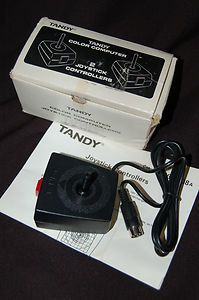 1-button joystick
The Tandy 1-button joystick combines the simplicity of the Atari 2600 joystick with the frustration of the Atari 5200 joystick. It's small and sleek and simple, but the stick itself is not self-centering which can make it quite frustrating to operate.
2-button joystick
The 2-button variety features a self-centering joystick. Two buttons are present now, one on the top and one on the front of the unit. This stick is required for certain games with more advanced controls.
Media formats
Like many computers of the era, Tandy Color software was available in three different formats: cartridges, disks, and cassettes.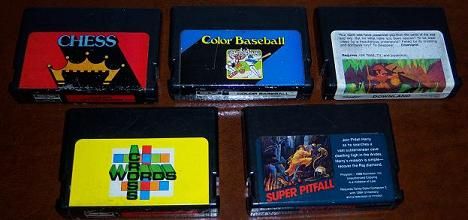 Cartridges
Tandy carts are solid black and feature a single label. Like Atari 2600 carts, the game contacts are not exposed until a piece of plastic is depressed – which is what happens when a game is inserted into the system. However, unlike Atari carts, you can depress the plastic with your fingers (a small pointy object isn't needed), which makes for easier cleaning. An optional device called the Multi-Pak Interface allows for quick switching among up to four mounted cartridges.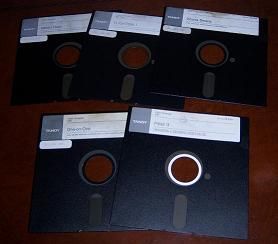 Disks
Tandy computers accept 5.25-inch disks through the use of an external disk drive. Unlike the disk drives of similar computers, the Tandy drive does not connect to the CoCo by way of a cord, but by a ribbon that plugs into the cartridge slot. Thus, you cannot have a cartridge and disk drive hooked up at the same time unless a Multi-Pak Interface is in use. Most floppy games fit onto a single disk, though some of the later titles utilize multiple disks that must be switched periodically throughout gameplay.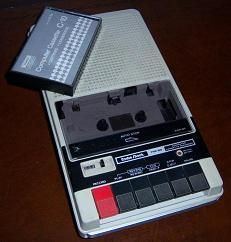 Cassettes
Originally, cassettes were used as the main method of storage for Color Computers. Today, tape games are quite scarce and nearly every game released on tape was also released on a (much more common) floppy disk. As expected, you'll have to wait through some significant load times while starting up a cassette game.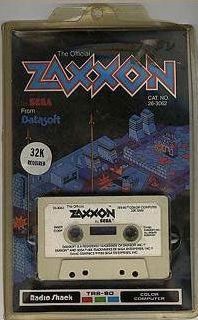 The tape drive itself is quite an interesting device. It includes a self-contained speaker, so it doubles an audio cassette player. If you play an audio cassette while the tape deck is connected to a Color Computer, the sound will be emitted from the television or monitor speakers. Also, if you lack a tape deck AC adapter (as I do) four C batteries will suffice.
Compatibility issues
All right, so you just purchased a beautiful Tandy Color from eBay, along with a joystick and floppy and cassette drives. Time to go crazy and buy every game in sight! Not so fast. Just as modern PC games have "system requirements" so do CoCo games. As expected, every game has minimum RAM requirements. With a 4K CoCo 1 you'll really have access only to launch titles. Think you're all set with a Model 3? Keep in mind that a stock Model 3 comes equipped with 128K, and certain late-era games require an
upgrade to 512K
. Games with steep RAM requirements typically also require an OS (OS-9 or NitrOS-9) to function. Think you're okay if you own a Model 3 with 512K and an OS? Well the answer is still no. A small handful of games that were released during the Model 1&2 era had extensive copy protection that prevents them from working with a Model 3! Come on son!
In summation, in order to play
every
Tandy Color game you'll need the following set-up:
- 512K Tandy Color 3 with OS
- 64K Tandy Color 2
- Disk and cassette drives
As far as I know, there are no games that will only run on a Model 1 computer.
Games
The CoCo game library stretches into the thousands. Official games were initially released in 1980 and discontinued sometime in the early-mid 1990s. Homebrew titles continue to be released today, though many of them exist only in the form of ROMs or disk images. The library is a healthy mixture of exclusive titles, arcade ports, clones of arcade games, and cross platform titles (ie: games that were also available on the C64, Atari 8-bit systems, Apple II, etc). Since the CoCo had such a long lifespan, expect game graphics to vary wildly. Early titles are either text only or feature graphics that are on par with the Atari 2600. Later games feature visuals that rival the NES and Master System. Game quality, of course, is all over the place as well. Some rank among the 8-bit classics, others are completely worthless. To get you started, here are some of my personal recommendations: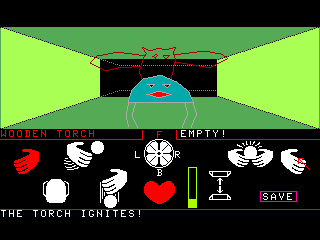 Dungeons of Daggorath / Castle of Tharoggad
Dungeons of Daggorath is arguably the most revered and important exclusive title on the system. A dungeon crawler, it features 3D graphics on par with Akalabeth and the early Ultima titles – as well as real-time combat and enemy sound effects. Perhaps best of all is the game's accessibility – it's easy to find, requires only 16K to run, and is available on a cartridge. A sequel, Castle of Tharoggad, was released six years later. Instead of descending into a dark dungeon, your goal is to reach the peak of a castle. Only compatible with the CoCo 3, Castle of Tharoggad features a full graphical battle interface (no more typing in commands) and colorful, cartoonish graphics. It wasn't as well-received as its predecessor, but is a classic in its own right.
Downland / Cave Walker
Probably the best-known Tandy platformers, Downland and its sequel Cave Walker play similarly to classics like Spelunker and Pitfall!, though the action takes place throughout a series of distinct levels rather than a giant sprawling cave. Collect the keys, find the items, avoid the enemies – nothing groundbreaking here, but these are great simple games with some of the best joystick controls seen on the CoCo.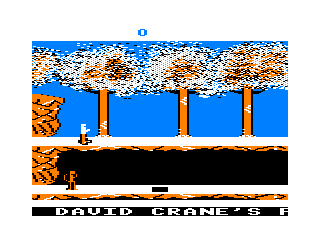 Pitfall II / Super Pitfall / Mine Rescue
Speaking of the Pitfall! series, Pitfall II made an appearance on the CoCo in 1985, with graphics and sound that greatly exceed the Atari original. A loose remake, Super Pitfall, followed in 1988. It's not as great as the original, but controls and plays better than the NES version we're all used to. A blatant clone, Mine Rescue, was released the same year featuring some of the exact same sprites and game elements.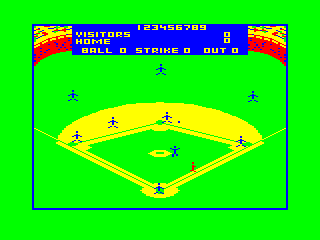 Color Baseball
If I had to recommend any Tandy Color sports game, this would be it. Yes, the graphics are pretty lame (dat grass) but it's surprisingly advanced for its time. If there's one thing I could say about this game it would be this – it's better than about half of the NES baseball games. Sure it's no Bases Loaded or Baseball Stars, but it blows away black-label Baseball and RBI Baseball. Not bad for a game released in 1982, check it out.
Draconian
Ah, now we're getting into some of the more controversial CoCo games – the clones! As you'd expect, stuff like this is really hit or miss. Some clones are an unplayable mess, while others actually outshine the game they're ripping off. Draconian is sort of like Bosconian… but with dragons. There's an added layer of complexity, as you must free and rescue astronauts from bases. Take too long and face the wrath of the dragons. Pure addictive arcade action.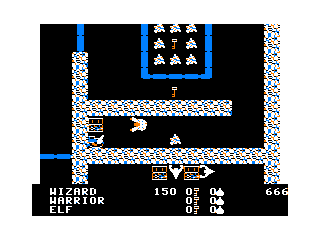 Gantelet / Gantelet II
As you can tell by the screenshots, Gantelet I & II are clones of Gauntlet I & II. If you love the Gauntlet series as much as I do, you'll adore these titles. They play very close to the arcade originals – except they're much shorter (the arcade games felt like they'd never end). Gantelet I is one of the few CoCo games to support three players: two with joysticks and one using the keyboard. Gantelet II actually supports four players: two with joysticks and two crowded around the keyboard. Both games are compatible with the sound/speech cartridge, so you'll periodically receive hints and messages similar to those heard in the arcade. Gantelet II is much more advanced than I, and thus requires a Model 3 computer.
Rampage!
An officially licensed arcade port, and one of the better ones. Released in 1989, Rampage! Features crisp colorful graphics and requires a Model 3 computer. Play as three giant monsters, smash buildings, and destroy the helpless humans. Like Gantelet, Rampage! supports three players – George is left joystick, Lizzie is keyboard, and Ralph is right joystick. Grab a couple of friends, an extra joystick, and have a blast.
Mega-Bug
It's like Pac-Man on steroids! The mazes are absolutely huge and there are no power pills here - get hit by an enemy and you're done. The game features a unique perspective – entire mazes are visible on the screen, but a "magnifying glass" is zoomed in on your immediate area. Oh yeah, and as you move you leave behind a trail for the monsters to follow. Good luck!
Arkanoid
Another great arcade conversion. Arkanoid is, of course, the classic brick-breaking game from Taito. What's neat about the Tandy Color port is that it behaves differently depending on which model computer you chose to run it on – on a Model 3 the graphics are greatly enhanced.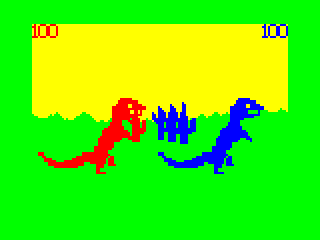 Dino Wars
Proof that graphics don't make the game. Dino Wars (released in 1981) might not look great (is that the same baseball field from Color Baseball?), but is loads of fun to play. Basically a rudimentary fighting game, two players control two T-Rexes who battle it out on a pseudo-3D plane. Watch out for the cactus!
The Contras
Your eyes do not deceive you – that's Contra on a Tandy Color! This one actually has some pretty beefy system requirements – you'll need a Model 3 with 512K RAM. The Contras supports two players simultaneously and graphically resembles the NES version. There are some differences though – the game's final levels have been redesigned and the 3D levels have been scrapped. There's also fewer gun power-ups to be found. Basically, it's not nearly as good as the NES port (which is one of the best games of all time), but it's much better than any other 8-bit computer variation.
Kyum Gai: To Be Ninja
An incredibly ambitious action title that would feel right at home on any home console platform. Kyum Gai features several side-scrolling levels and is one of the few games that requires a two button joystick (though alternatively you can use the awkward keyboard/joystick combo). Using two buttons allows your ninja to jump without pushing the joystick up as most games require – you can even unleash combo attacks by pressing attack and jump at the same time. Stylistically, the game resembles Shinobi and Ninja Gaiden – you work your way right destroying any thugs in your path. Note the black bars around the screen – this is common among most CoCo action games.
Warrior King
Every 1980s game console requires at least three specific games: one featuring commando/Rambo musclemen, one featuring ninjas, and one medieval Conan rip-off. I've already covered the first two bases, here's the third. In Warrior King (developed by the same folks who made Kyum Gai), you play as the warrior Rastann (sounds vaguely familiar…) seeking to regain his crown from the dark forces. Hit detection is surprisingly impressive, though your jumps need to very specific. Along with Kyum Gai, this is probably the best CoCo exclusive action title.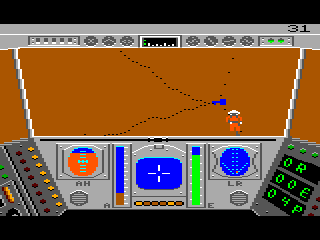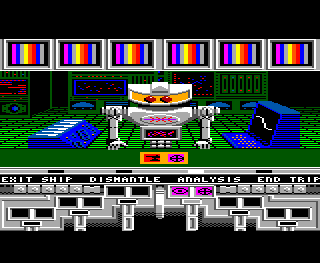 Rescue on Fractalis! / Koronis Rift
Two classics from Lucasfilm Games. Both games (somewhat unsurprisingly) feature an outer space theme. The name Rescue on Fractalis! comes from the impressive fractal graphics used to create the mountainous alien landscape. Rescue is essentially a 3D flying game, where one has to shoot down aliens and rescue pilots. The twist is that some pilots are actually aliens in disguise and will kill you if they mount your ship, so differentiating between friendly and hostile pilots quickly becomes essential. Koronis Rift features the same fractal graphics, but the main goal is to loot ships rather than rescue pilots. Both games were available on nearly all classic 8-bit computers, though I believe the CoCo versions have the most impressive visuals.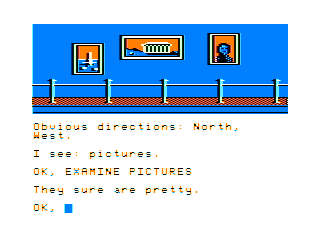 The Vortex Factor
Story-driven adventure games were common on old computers as they're completely menu driven, and thus don't require any precise action-based controls. In The Vortex Factor, a CoCo exclusive, you're tasked with travelling through time to recover treasure to bring back to a museum. The story is solid and the game isn't as frustratingly cryptic as similar genre titles. Highly recommended.
Leisure Suit Larry In the Land of the Longue Lizards
Very few Sierra adventure games found their way to the Color Computer, as IBM PCs were beginning to gain ground in the late 1980s. Land of the Longue Lizards is the first game of the Larry series, where you take control of a middle-aged self-proclaimed "ladies man" as he embarks on a quest to "get lucky." Raunchy and hilarious, the game is a must-play on any platform.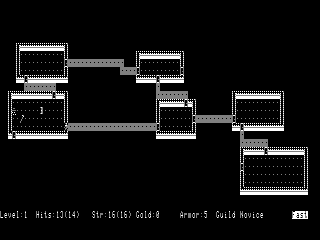 Rogue
Perhaps you've played a "roguelike" RPG like Dungeon Hack, Azure Dreams, or Izuna. Well this is the game that started them all. Rogue is essentially a dungeon-crawler where your (randomly-generated) surroundings are mapped as you progress. The game is black and white and objects are represented by letters, numbers, or very basic icons (original mainframe versions of the game used nothing but ASCII symbols). Your goal is to descend 26 levels of the dungeon to retrieve an amulet. Monsters get progressively harder as you make progress and the game itself can be incredibly challenging. If you have even a passing interest in RPGs you need to check this out to see where it all began.

Emulation
There are several types of Tandy Color emulators available. As far as I'm concerned the only one you'll ever need is
Vcc
. Vcc emulates a Color Computer 3 with selectable RAM values (512K is the default), and two 2-button joysticks. Note that this is the official, legal CoCo emulator, created and programmed by one of the original CoCo game designers. Downloadable Tandy games are available in three file extensions:
.rom
,
.dsk
, and
.cas
(for cartridges, floppy disks, and cassettes, respectively). Note that many downloaded games have a
.ccc
extension – they will not run on this emulator; simply rename the file and add an appropriate extension. Also, recall that with a real CoCo the floppy disk drive plugs into the cartridge slot. With Vcc you'll need to plug in the virtual floppy drive (fd502.dll) into the virtual computer before you can run a floppy disk game.
This is a lot of information… I'm confused! Where do I start and how much is this stuff?
Calm down. It's all pretty simply, actually. If you decide to explore the world of the Color Computer, you'll first need the computer itself. Before hopping on eBay, I recommend checking craigslist and other local sellers. You'd be surprised to see how many folks are giving these things away – literally. My first CoCo was absolutely free (and included games, joystick, and floppy/tape drives) and I paid $25 for my second.
I suggest first picking up a stock Model 3, this will give you access to the largest number of CoCo games (I'd say around 90%). You'll also be able to display on nearly any type of television. You may want a floppy drive eventually, but cart games are plentiful and extremely reliable. A 2-button joystick (or two) is the only controller you'll ever need. Tandy neophytes need not worry about cassette decks or operating systems – wait a while and see if you fall in love with the system, then pick up the accessories.
Games can be tricky to find. And unfortunately, the Tandy Color seems to suffer a bit from what I call "Sega Saturn syndrome." eBay sellers tend to list Tandy games individually and the best games can cost as much or more than you'll pay for the actual system. Always keep an eye out at thrift stores and flea markets – my local thrift store tends to throw Tandy cartridge games in with audio cassette tapes due to their size and shape.
Photographs
So far this article has been filled with stock photos and emulator screenshots. But what does all this Tandy stuff
actually
look like? Here are a couple of my configurations…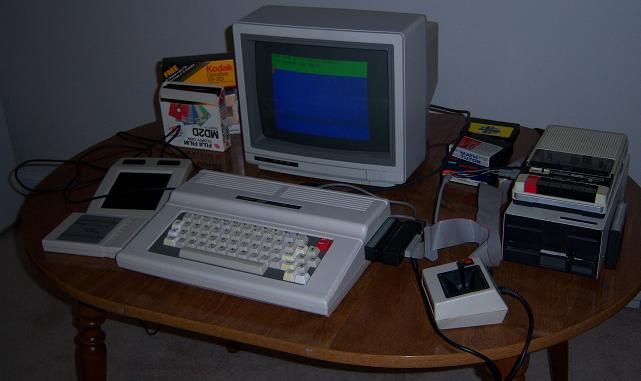 A complete set-up with Tandy Color 3 Computer, RGB monitor, 2-button joystick, disk drive, cassette drive, touch pad, speech/sound cartridge, and a small set of disk and cartridge games/software.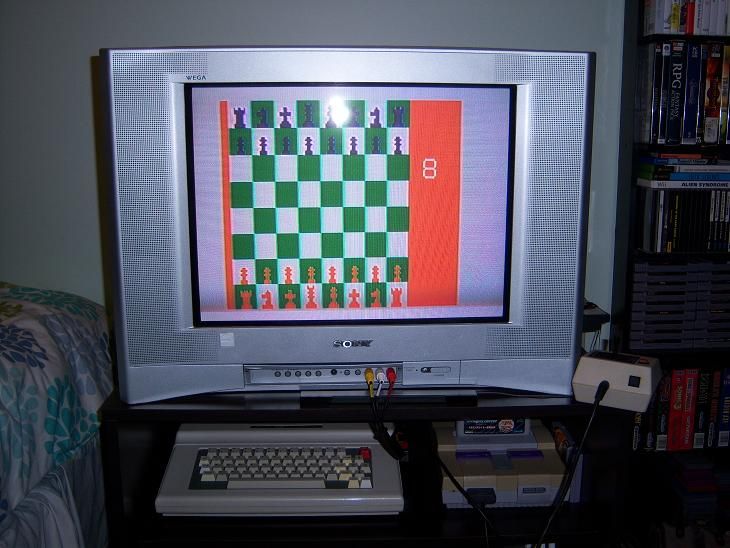 Don't want to deal with all that extra
stuff
? Here's an alternative "console" set-up. The CoCo is hooked to a CRT, a cartridge game is running, and a single joystick is attached. Note that the system isn't taking up any more space than an Atari 2600 would.
Credits
I'm deeply indebted to the following sources. I'm providing links, as I suggest you check out these websites for additional Tandy Color information.
Tandy (TRS-80) Color Computer Games
– A
phenomenal
website and one of the most important CoCo resources on the web. No list of Tandy Color games is complete, but this one is the best there is. Every listed game includes a brief summary as well as system requirements and developer/publisher information. Some games are available as downloads as well. Anyone who is just getting into Tandy Color gaming needs to bookmark this site immediately.
Cloud-9
– A great place to buy Tandy Color hardware and software, including RAM upgrades, NitrOS-9, and the systems themselves. Also includes some great FAQs and documentation.
8Bit Micro
– Loads of information about
all
models of Tandy computers, as well as other 8-bit systems.
Daves Old Computers
– Looks like Dave is a pretty hardcore collector of retro computers and gaming systems. Some great photos and information here.
The TRS-80/Tandy Color Computer SuperSite
– The classic Tandy message board, contains many archived threads – some of which are from the late 1980s. For some laughs/nostalgia, check out
this thread
created after the launch of the CD-I.
TRS-80 Color Computer Archives
– An invaluable resource, this site contains documentation on nearly all things Tandy related – game instruction manuals, programming instructions, applications, utilities, etc.
Sock Master's Tandy Color Computer 3 Page
- A neat little website designed by the creator of the CoCo port of Donkey Kong.
Vcc
– Official website of the Vcc emulator.
Thanks for reading!
- Bone