Games Beaten in 2016 So Far - 106
January
(20 Games Beaten)
February
(8 Games Beaten)
March
(8 Games Beaten)
April
(13 Games Beaten)
May
(6 Games Beaten)
June
(13 Games Beaten)
July
(7 Games Beaten)
August
(15 Games Beaten)
September
(8 Games Beaten)
October
(8 Games Beaten)
106. Battlefield 1 - PlayStation 4 - October 20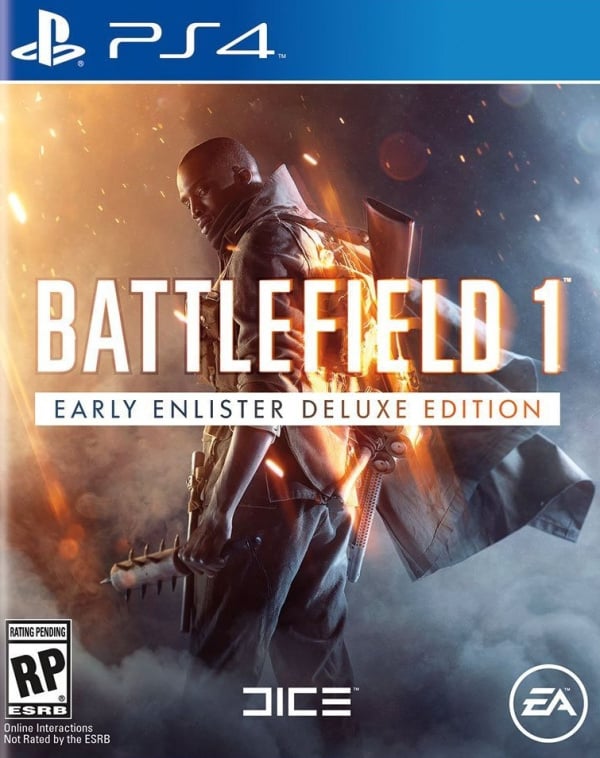 This is the first time I've ever been truly excited for a Battlefield game. As a history buff (and teacher), seeing a major big budget video game visit World War I - the most historically significant conflict ever fought and one that never gets the attention that it deserves - was EXTREMELY exciting for me. I waited eagerly for the release day to arrive when I could crawl through the trenches of Verdun, fight the battle of the Somme, and resist the Ottoman Turks' control of Arabia.
The game didn't
quite
live up to those expectations, but it came damn close. First I'll address the campaign - what I looked forward to the most - and then the multiplayer - what the rest of the world looked forward to the most. I have always enjoyed games that told a good story over anything else, and with how (relatively) obscure the first world war is in most people's minds, there was great potential for storytelling in this game that could be both entertaining and informative. Unfortunately, that potential went largely untapped. The campaign takes place over six sections (including a tutorial/installation time-killer), each section containing something like three or five chapters. These each tell the story of a different part of the war - the trenches on the western front, the early days of aerial combat, amphibious landings and beachhead invasions, the exploits of the legendary Lawrence of Arabia, etc. The problem is not with the content of the campaign - each mission was extremely fun and told a different part of this multi-faceted and deeply complex military conflict. The problem with the campaign lies in its length; it's extremely short. It'll take maybe 4 hours, I'd estimate, to get through it. World War I changed the world and the way global politics was played forever. There was SO MUCH more EA could have done with that setting. I was thrilled with what was there; it's how much could have been that left me feeling disappointing and wanting for more.
The multiplayer is exactly what you'd expect from Battlefield - large scale, strategic, and insanely addictive. I'm absolute rubbish at it, but damn, is it fun. In most ways, it really is Battlefield 1942 in 1917. They didn't try to be Call of Duty like Battlefield 3 and 4 did. Back are the huge maps with multiple control points, each of which require (or at least recommend) a different tactic to attack or defend. Picking the right tools (class) for the job is at LEAST as important as an individual player's skill for most of these fights, restoring to Battlefield what always gave it an edge over other shooters IMO - that hint of strategy in a genre full of camping and run-and-gunning. I haven't played around a
whole
lot with Battlefield 1's multiplayer since I was focused on the campaign, but I intend to change that this weekend, and what I have played was IMMENSELY enjoyable.
Graphically, the game is gorgeous. The lighting effects accentuate the water and mud in a way that is almost too realistic, if that makes sense, but that also drives home the wet, miserable conditions of the French trenches during the war and adds a dull, dreary feel without overly desaturating all of the game's colors. The sound design, as one would expect from Battlefield, is superb. Each gun has its own sound and feel, and each vehicle has a personality. It really brings to life the now-century old machines of war in a way that few games can. If you let yourself get sucked into, Battlefield 1 can immerse you in a way few other big name shooters these days can. I may be a bit biased with how excited I am to have a big budget shooter set in World War I, but I can't praise this game highly enough.
Because of the disappointing length of the campaign and the aspects of the war that were left untouched that I feel like could have added another layer of depth, I can't say that this game is near flawless. It is, however, an EXCELLENT game, and as far as "dude-bro" first person shooters go, this is the best one I've played in years. I absolutely recommend this one to anyone with a PlayStation 4, Xbox One, or gaming PC. This is not a Battlefield title that you want to miss.