Re: Together Retro: Beat-'Em-Ups
Posted: Sat Jun 30, 2018 5:29 pm
Welp, it's the last day of this TR. That means I need to slip in at least one more game...
...and it's
Armored Warriors
. Some of the game feels like it has a lot in common with
Alien vs. Predator
, but unlike the stiff nature of that game,
AW
plays quite loosely. In fact, you move so fast that lining up hits can be very tricky. That might be the only reason I nick a half point off my score, and give it a 7.5/10. I also think the parts system, where you can steal arms and legs, both contributes to different styles, but also robs each character of their individuality as well.
Still, if you want a blisteringly-paced brawler, definitely give this one a go. You don't even have to like mechs to like this game, and if mechs make you think "slow", well, this definitely isn't!
And another one! I've never even heard of this one, but it popped up on World of Longplays:
Zero Team
. The game feels a bit like perhaps
Final Fight
crossed with
Crime Fighters
; the sprites are a bit smaller, and the combat feels pretty chunky (in a good way). There's not a ton of moves; you get your usual grab and knee or throw, a combo punch, and a clear-out attack. You can also hold up or down to modify your combo and send your player airborne. That ends up being useful to take you out of the range of enemies.
Characters feel somewhat different, although not enough to make it completely worthwhile. The girl's combo seemed the best, as she leaps airborne and then blasts enemies back down to the ground, and it takes off big chunks of life. The girl
also
plays the part of significant sex appeal, more so than usual. Oh, and the enemies explode into fiery, meaty gibs when you kill them. It's all rather bonkers, honestly. I'll give this one a 7/10.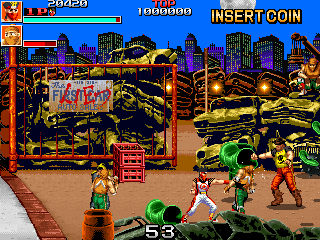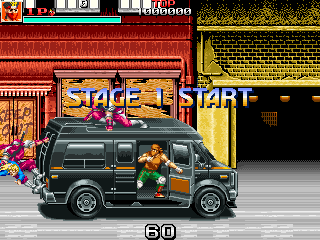 Dang, knew I'd seen Seibu Kaihatsu's name somewhere. They're the devs of
Raiden
.