February's Together Retro Themes: Poll Closed - FF Spin-Offs
Posted: Fri Jan 05, 2018 9:46 am
And the winner is Final Fantasy Spin-Offs!
Thanks for voting, see y'all next month.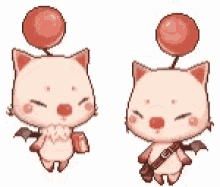 -----------------------------------------------------------------------------------------------------------------------------------------------------------------------------------------------------------------------
Hello all - it's time to vote for next month's TR theme! I put a lot of thought into these options, and actually had to whittle them down from a list of nearly ten ideas. So I'm definitely excited to see what you guys think.
This poll will run for one week. You may choose TWO themes, and the theme with the most votes will be the winner. In the event of a tie I will use some kind of virtual coin-flip RNG or whatever to decide the winner. You CAN change your votes throughout the open voting period week. With that in mind, feel free to discuss the options and help convince others why we should want to pick a particular theme.
And here we go...
Wonder Boy x Adventure Island
If ever there was a convoluted series of games it's this group here. While the original Wonder Boy was cloned into Adventure Island, those two series then went on to spawn their own unique sequels. And even those get complicated to try to keep straight. So this month I propose we delve into the increasingly more action-RPG Wonder Boy series along with the sidescrolling platforming of the Adventure Island series or if you want to get really crazy you can dig deeper into reskins like Revenge Of Drancon and the Monica conversions or even weirder tangents like Whomp Em.
Suggestions: Wonder Boy, Wonder Boy In Monster Land, Monster Lair, Dragon's Trap, Wonder Boy In Monster World, Monster World IV, Adventure Island 1-3, Super Adventure Island and Super Adventure Island II.
Final Fantasy Spin-Offs
The Final Fantasy franchise is rather large. And yet I feel like it's mostly the mainline games that get the most attention. So I figured why not spend a month exploring all the various side stories and spin-offs and other oddities. There are action RPG's, strategy RPG's, and even chocobo racing. And when you get into localizations that were renamed "Final Fantasy" when they hit other regions, you can get as creative as you want as far as what's considered a Final Fantasy spin-off or not.
Suggestions: Final Fantasy Adventure, Final Fantasy Legends 1-3, Final Fantasy Tactics, Crystal Defenders, Mystic Quest, Crystal Chronicles.
3D Zelda Clones
Last month we got an option to vote on 2D Zelda clones, which got me thinking about the even more abstract concept of 3D Zelda clones. I'm not really sure the best way to describe such a game, but I think you'll know them when you see them. I feel like this one will be the least popular of the options, but who knows - there could be some interesting choices that even I haven't thought of.
Suggestions: Okami, Beyond Good & Evil, Dark Cloud and its sequel.
Mizuguchi's Puzzles & Music
And now to shake things up a bit I thought I'd nominate a single game designer and focus on the puzzly musical gameplay that he's often known for and that Together Retro hasn't really done much of. Mizuguchi has put his name on some very interesting games from rhythm-focused Space Channel 5, to the trippy shooting of Rez and Child Of Eden, or the addictive puzzle titles that seemed to help sell the PSP and DS early on. This theme could open up some interesting score competitions and even online multiplayer possibilities.
Suggestions: Space Channel 5, Rez, Lumines, Child Of Eden, Meteos, Every Extend.