OK, lets get serious, with some genres that we haven't really had represented yet too:
Darkstalkers: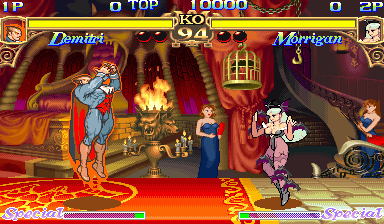 Fighting game with monsters.
Saturn/PSP/PS1/PSN/Arcade
Fear Effect:
Action game with survival horror like controls and some creepy enemies. Cool art style. Caused some controversy back when, and not for the horror elements...
PS1/PSN (PSP, PS3, Vita?)
Koudelka:
Gothic RPG game with horror overtones.
PS1 (but playable on PS2 and PS3 aswell!)
Castlevania: Rondo of Blood
Classic (non-metroidvania) Castlevania at it's best. Much more available now then once upon a time.
PCE-CD, SNES(sorta), Wii VC, PSP
Master of Darkness
Sega's take on 8 bit Castlevania!
Master System, Game Gear, 3DS VC