For a while now, I've started a few review series on my youtube channel. Among them is a series I call the Controller Chronicles, named of course after the long running public broadcast of yesteryear, The Computer Chronicles.
This series aims to showcase the best gaming controllers on the market with some thoughts on their design, performance and pricing. You can expect more of these such reviews in the future, so stay tuned! If there's anything you'd particularly like me to cover, let me know and I'll try to get around to it. Of course, I can only review controllers I own.
The newest entry in this series is the HoriPad Mini 64.
Video review:
http://www.youtube.com/watch?v=_rft8c7nW3A
Previous reviews:
Hori Pocket [PS1/PS2]
http://www.youtube.com/watch?v=GnI27j2MLoU
Nyko Kama Wireless Nunchuck [Wii]
http://www.youtube.com/watch?v=AtC-OWpVwzw
HipGear Xbox ScreenPad [Xbox]
http://www.youtube.com/watch?v=03ND_FGGNp0
Generation NEX Wired Controller [NES]
http://www.youtube.com/watch?v=gssmeCizWPI
Wico Command Control Balltop [Atari 2600]
http://www.youtube.com/watch?v=f1s8TjvOpp8

Wico Command Control Bat [Atari 2600]
http://www.youtube.com/watch?v=6mn-8Nst4iQ
Hudson Joycard Sansui SSS [NES]
http://www.youtube.com/watch?v=n2PiK3QtxBI
Hori Real Arcade Pro 2 SA [PS2]
http://www.youtube.com/watch?v=roIa9SC6LKk
Super Hori Commander [SFC]
http://www.youtube.com/watch?v=bWcNpGP-J54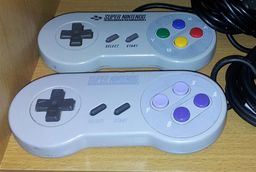 SNES & SFC Controller Differences
http://www.youtube.com/watch?v=GIorZopj4SY
Logitech Cordless Precision Xbox Controller [Xbox]
http://www.youtube.com/watch?v=yNMjsaVYZdo
Logitech Wireless Precision PS2 Controller [PS2]
http://www.youtube.com/watch?v=gKkGWYg7G9A