I've been working on various add on boards for all of my controllers to make them wireless. I've seen this done in the past by others but I ended up having to make my own from scratch as it seems no one offers a service or kit. Is this accurate or have I missed something? If that is the case do you guys think there would be a worthwhile demand to do a small run of boards? My goal here is to create boards that fit inside and solder directly on to the OEM pcb as a replacement to the original wiring coming from the cable. I've tried to keep any modification to the oem controller minimal beyond desoldering the wires to the cable. I'd like to be able to revert a controller back to stock and no one be able to tell the difference. This means no drilling of holes for charge port or switches. The controllers are powered on via holding the start button and go to sleep automatically. As opposed to making them rechargeable I've focused on making replaceable batteries last as long as possible (exceeding wavebird battery life using the smaller purple controller case) I would expect the cost of a kit to be around $20 to $30 depending on the controller.
Anyways here is what I have so far. NES, SNES, N64, Gamecube, partially working Dreamcast and I plan to add PSX as well. Right now these are all running on primary lithium coin cells cr2032 and I've been able to achieve quite impressive battery life. NES is around 1000hrs playtime and 5yrs standby. Range is also well beyond adequate as I've tested it in a large office building to be beyond 100ft through walls. For the newer controllers I am leaning towards cr123a's in the wings. Response time is either indistinguishable or better than stock as I have polled the controller faster than the console. I had never been able to beat UN squadron until I used my own controller. I've also had very high level smash bros players blind test it and give it thumbs up.
I've been working on this for about a year on and off in my spare time and have yet to finish as I tend to get sidetracked thinking about adding features that are likely too complex and mostly novelties. That being said, now that I have a mostly working base, are there any features you guys would consider must haves (or close enough to it). Cross compatibility between controllers would be nice but I tend to view this as mostly novelty, going along that same route would be remappable buttons/turbo/macro. I suppose I am mostly just concerned with staying authentic but wireless. As a substitute to this I've been considering either adding usb support to the receiving end or making a standalone usb receiver, this way all controllers would be able to be used on pc emulators where all of this modification is built in if anyone desired it. Support for aftermarket controllers is high on my list as the oems begin to become rare/expensive . Some of these already exist in wireless form though, minus th oem feel of course. Not all of the aftermarket ones are terrible though.
Thoughts?
Old prototype on an aftermarket NES board. Shown to give an idea of the add on nature of the project.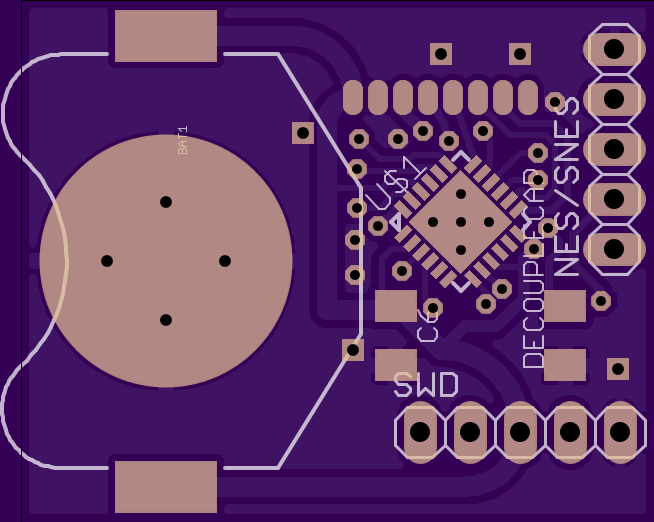 Latest revision of NES aftermarket board. (Fits TTX model, a decent controller for $4)