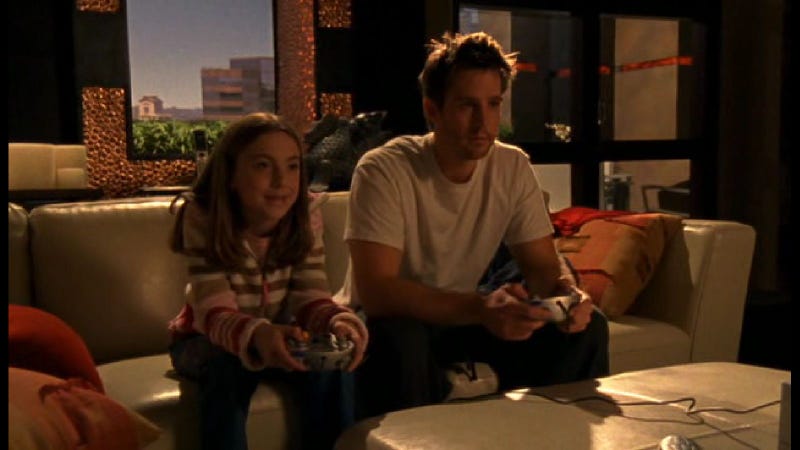 I've posted before in several threads that I really enjoyed the Veronica Mars series (as well as the 2014 movie release). If you're not familiar, see here:
http://www.imdb.com/title/tt0412253/
The series ran from 2004 - 2007 (3 seasons) which was late high school and early college for me. The director and writers were obviously fans of technology and video games. Throughout the series there are cool gadgets & tech such as: Veronica's Side Kick phone, the use of the internet via wifi & hacking, USB sticks, new laptops/iMacs, digital cameras, AND yes, video games. There is even an episode completely revolving around the development of a new FPS!

As a fun fact, Kristen Bell also voiced Lucy Stillman in 3 Assassin's Creed games
Because technology is always evolving, this created a nice time capsule of sorts to go see what was "cool" during this time in my life. Yup, I remember thinking all of these were awesome!
I found several places on the web mentioning isolated occurrences of video games and consoles featured within VM (review sites, comments, etc) and I remembered a few from memory, but I wanted to place the episodes I was aware of in one thread. I'll re-watch the series again at some point and update this. Also, if you guys who have watched the series can help me add to the list!
Video games played or referenced within VM
:
•
Madden 200x
(oXbox) game play shown > likely Madden 2004
» Need to verify, episode aired 10/12/04, Madden 04 released 8/12/03
•
Golden Tee
arcade game referenced in same episode
◦ "Meet John Smith" (S1, E3: 10/12/2004)
•
Ureal Tournament
(oXbox) game play shown
» EDIT - Wasn't Halo CE. I was trying to recall the game they're playing via LAN in the video game club when she yells "OWNAGE" lol

◦ "The Wrath of Con " (S1, E4: 10/19/2004)
Link to reference of Unreal Tournament:
https://www.imdb.com/title/tt0739545/go ... =tt_trv_gf
YouTube vid - footage of this LAN scene:
https://www.youtube.com/watch?v=5-KQSg9YzW8
•
Quake
and
Asteroids
referenced in same episode
» Veronica: '
The so-called Silicon Mafia has developed a game that'll make Quake look like Asteroids.
'
» Episode centered around the development of a fictional new, revolutionary FPS
◦ "The Wrath of Con " (S1, E4: 10/19/2004)
•
X-Men Legends
(oXbox) game play shown, oXbox system box shown
◦ "An Echolls Family Christmas" (S1, Ep10: 12/14/2004)
•
Fable
(oXbox) game play shown
◦ "Lord of the Bling" (S1, E13: 2/8/2005)
•
Dead Or Alive Xtreme Beach Volleyball
(on oXbox IIRC) game play shown
◦ "One Angry Veronica" (S2, E10: 12/7/2005)
•
Mario Kart Double Dash
(NGC) game play shown
» Silver NGC console shown in plain view
» MKDD online play mentioned, possible reference to tunnel software hack allowing this
◦ "Postgame Mortem" (S3, E13: 2/13/2007)
•
Gears of War
(Xbox 360) game play shown
◦ "Un-American Graffiti" (S3, E16: 5/1/2007)
•
Mortal Kombat
(oXbox)
Not sure if Armageddon, Deception, or Deadly Alliance - TBD
Episode # TBD
... while I can't recall the game shown (if any) or episode, Logan is definitely holding a PS2 or PS3 dual shock controller at some point.
VM is a cool series. Even more awesome it placed some ground breaking tech and video games from a fun time in my life on the screen which leads to great memories today. Let me know if you recall any other games shown in the series

WOW... looks like someone over at IGN might've been inspired by out thread!
https://www.ign.com/articles/2019/07/26 ... easons-1-4
Edit: isiolia contributed Fable to the list. Thanks!

Edit: 1/29/15: added Madden (oXox) and Golden Tee

Edit: 11/5/15 added MK (oXbox)

Edit: 12/26/19 revive pics, Unreal Tournament links, IGN links on very similar topic (2019)