Together RPG - Shadowrun - 2/1-->4/1
Posted: Tue Feb 03, 2015 8:48 pm
Welcome chummers, to our next most excellent selection for Together RPG, Shadowrun!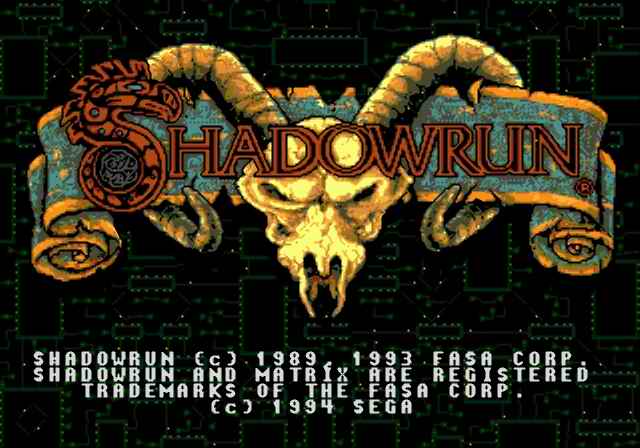 Shadowrun is a cyberpunk rpg based on the popular tabletop game of the same name, featuring a dystopian future, megacorps and epsionage, cybernetic implants, a worldwide hackable computer network known as the Matrix, the rebirth of magic and some fantasy races by way of human mutation.
There are three versions of the original Shadowrun, released on the
Genesis
,
Snes
, and
Mega CD
, and none of them have anything in common other than the name and the general setting of the world of Shadowrun. All three games have their fans, but the Genesis version is generally considered to be the most accurate experience when compared to the tabletop game.
The Genesis version is a top down action rpg. You play as Joshua, trying to find out what happened to his brother, before getting sucked into a larger conflict.
You can select from three classes at the beginning, which affect your starting stats, but you can also hire fellow runners to join your party and pick up any slack.
There are three distinct legs that make up the overall story that can be approached in any order. They are connected by accepting and completing smaller missions that may involve something as simple as delivering a package or an escort, as complex as delving into the Matrix to steal files, or as dangerous as an assault on a megacorporation, not to mention some investigation of your own.
The game is rather open, so you have some freedom about how to achieve your goals.
The Snes version is also an action rpg, this time from an isometric perspective. You play as Jake Armitage, a recent amnesiac who barely survived a shot to the head, and the first big question is just who the hell wants you dead.
Combat is real time, but interactions are made with a cursor (you aim with a crosshair). This game also features a keyword system that will bank important terms that you can discuss with npcs.
Finally, the late in life Mega CD version was a Japan exclusive, developed by Compile. This is a bit of a hybrid, and you might consider it a cross between Snatcher and Shining Force. Combat takes place on a grid with a top down view, while all other interactions are in a first person visual novel style.
There are 5 different scenarios to complete. Unfortunately, the game is extremely text heavy and entirely in Japanese. There has been an English fan translation in the works, but there hasn't been an update on the project in nearly a year, and there is no playable version of it yet.
If anyone is able to play this version, please document your experience! I know I'd love to hear about it.
So that's Shadowrun!
Join us, let us know which version you'll be playing, talk about your experience, and for god's sake don't get sent to the chop shop! Unless you want to.