Relevant video on YouTube:
https://www.youtube.com/watch?v=x0weL5XDpPs
Background (for those that don't already know): So composite video has inherent flaws, and the Sega Genesis composite video is just famously bad. Mostly, it's more blurry than normal and has rainbow banding everywhere. BUT! Game designers embraced the quality of the composite video signal (and in turn RF) and used it to their advantage to create some faux transparencies. Basically, if you create a checkerboard or hash pattern, once it's smeared through composite video it'll make a nice little transparent effect.
For example, the waterfalls in Sonic...
Or the sky in Vectorman...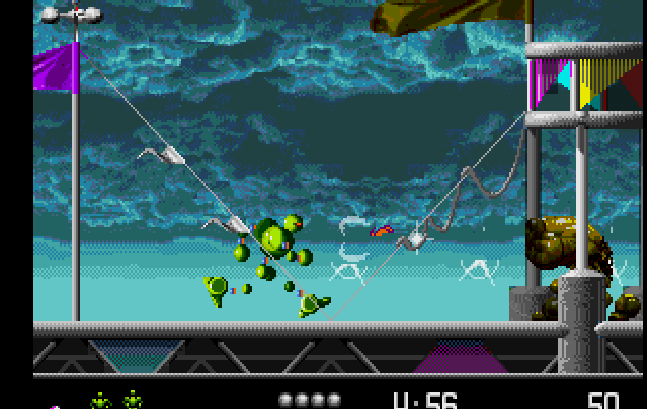 These effects can look very nice. But once you step away from RF or composite video (S-Video, RGB or component) they become very jarring in some games. Take for example the lights in the bar in Streets of Rage 2...
The waterfall in Sonic 3 is most annoying because without composite video it just has all these red vertical lines...
So the question is, composite or not? There's a trade off either way. Either stick with composite video and preserve the effects, but deal with an overly blurry image and rainbowing everywhere. Or, step up to S-Video or better and get a super sharp image but have to deal with broken faux transparencies.
Personally, I've been using S-Video for a few years now, and more recently started using RGB. But most recently, I'm kinda sick of looking at these disgusting checkerboard and hash patterns. I've been using composite and it's a pleasure to see these effects again. But I'm not exactly happy having to deal with the really blurry video. I'm thinking I might choose composite or S-Video/RGB on a per game basis. Basically, if the game uses these effects that I use composite. Otherwise I stick with S-Video or RGB.
There's also the option of trying to obtain better composite video quality. The Genesis just has comically bad composite video. I haven't seen any examples, but I'm sure some one has done this. Mod the console with a better video encoder to get better composite output.
What do you guys do?